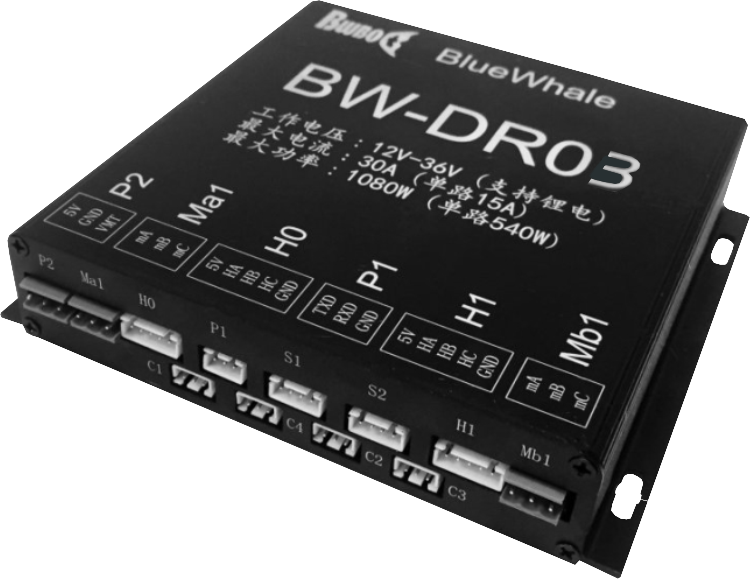 BW-DR03
High perfomance hub motor driver, special designed for robots
Dual output, surging power
Dual output 1080W Support ROS
Application Videos
High Speed

The Bluewhale hub motor driver can drive the hub motor rotates at high-speed. In this video, XQ5 which uses this driver was rotating at high-speed.

Strong Power

Bluewhale Hub motor driver, maximum power 1080W, single 540W. The tank in the video is driven by this driver and it's powerful and unstoppable.

Linear Motion

The car in the video is driven by Bluewhale hub motor driver. From the video we can see that the car runs stable at high speed.
The Bluewhale drive controls motor speed with error less than 1%. Maximum power of the driver is 1080W (single 540W). Support operating voltage from 12V to 36V (support lithium battery). Our performance is better than other drives on the market especially in low-speed conditions. We also provide ROS driver for this drive. This allows you to control motor motion directly in ROS. This drive also provides 9-axis gyroscope data, odometer data which makes it easy to continue develop of ROS-related navigation programs. And the driver can be equipped with an optional infrared sensor and ultrasonic sensor. Bluewhale drive is the preferred solution for robotics development.
Product Info
Operating voltage: 12v-36v
Maximum current: 30A, single 15A
Maximum power: 1080W single 540W


Scope of application: General brushless Motor Drive, serial communication control, simple and convenient.
Comprehensive after-sales and technical support for a wide range of usage scenarios. such as robots, AVG, balance car

Ros driver support, built-in nine-axis precision gyroscope, can output high-precision mileage meter.
STM32 high-precision closed-loop control